Music Maker Studios is offering online lessons for all instruments.
Music Maker Studios is now offering in person lessons at the Brookline VFW, which is located at 386 Washington Street, Brookline, MA., one block from Pierce School. We are still also offering remote lessons via Zoom as well. Please contact Bob Brenner at 781-864-8443 for more information.
Private Music Lessons 
Music Maker Studios has been providing private music lessons to all levels of students for over 40 years.  We offer private music lessons for piano, guitar, saxophone, clarinet, flute, and bass guitar.    We put on a recital in June to let our students showcase their talents and to give their parents and family members a chance to enjoy a live performance in front of an appreciative audience.  While all of our teachers are formally trained and educated, we can customize lessons to meet your specific goals and needs.  If you need help buying an instrument, we can help you with this.  If you have more than one child taking lessons, we will make every effort to coordinate lesson times so you only have to make one trip.
Interested in taking lessons with one of our teachers?  Call us at 781-864-8443 or email us at info@musicmakerstudios.com
Ensemble Classes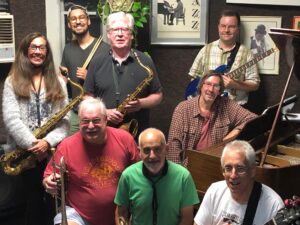 We also offer ensemble classes for intermediate and advanced players who want to play jazz with other musicians. We currently have two active adult ensembles taught by our saxophone teacher, Bob Brenner.  The adult ensemble classes have been running for many years.  People tend to stay with these ensembles for a long time – one member has been here since 1981.  Ensemble classes are very casual, non-competitive, and friendly.  If you have a desire to play, you're welcome to come sit in on one of the classes.  Click on the "Ensemble" tab to hear some examples of their playing or to see some photos from recent gigs and rehearsals.
Also, check out a video of one of the ensembles playing at our recital below.